My Updates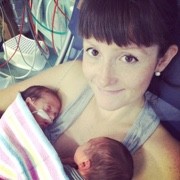 The story of two peas
Many of you know the story of our little peas, Finny and Charlie. Now robust, smart, wickedly funny five-year-olds, their dramatic entrance into the world at just 30 weeks made for a terrifying start to their earthly adventures. Having had to be resuscitated on arrival, our little fighters spent their first eight weeks being cared for around the clock by the superb staff in the neonatal unit at the Royal Hospital for Women in Randwick. 
There we relied on the incredible team of doctors and nurses who loved our boys and nurtured our anxieties, the friendship and support of the extraordinary parents running the same minute-to-minute emotional gauntlet we faced daily, and the life-saving equipment funded by incredible NFP organisations such as the Running for Premature Babies (RFPB) Foundation.
Inspired by friends I made in that NICU all those years ago, I started fundraising for RFPB last year and will soon be donning the purple jersey once more for the upcoming RFPB virtual half marathon that is replacing the annual SMH Half (where the bulk of the organisation's fundraising is typically done). Any funds raised will help support the RFPB's great efforts in providing neonatal equipment and funded research to advance the care of premature babies. 
I appreciate that now is a difficult time for many financially so my main objective is to raise awareness of this incredible organisation that has inadvertently touched the lives of so many we know and love. If you can spare a small donation that will of course be very gratefully received.

Thank you to my Sponsors Jeff Zulman Tom Green Michael Minihane Ronan Harnett Ben Turner