The Purple Wiggle, Lachy Gillespie, brought special joy to families of premature babies when he visited the Newborn Intensive Care Unit (NICU) at The Royal Hospital for Women last week.
Lachy is an ambassador for the Running for Premature Babies Foundation which recently donated new lifesaving equipment to the unit in order for babies requiring surgery to be safely transported to the operating theatre without having to be moved from their NICU equipment.
The Baby Leo Incubator and Babylog Ventilator were funded through Running for Premature Babies' "Premmie Marathon Challenge" last November, which raised $235,000.
Running for Premature Babies was founded by Sophie Smith and her late husband Ash after they lost all three of their prematurely born triplets to complications after their premature birth in 2006.
Since 2007, her charity has raised more than $4 million for The Royal's NICU unit as well as other neonatal units around the country.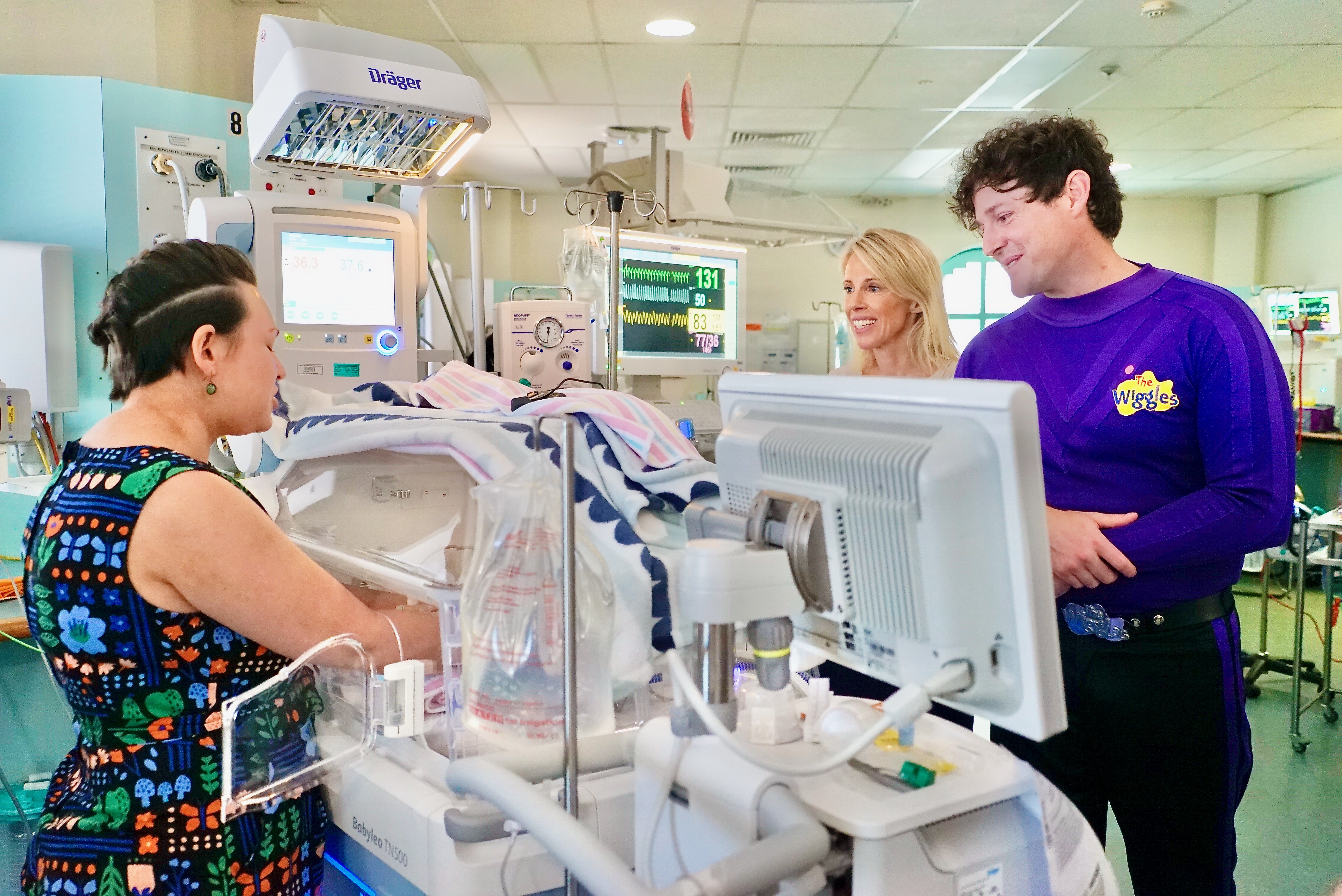 Sophie says, "It's always amazing to come back into the Unit where my sons were cared for and see the tangible difference that Running for Premature Babies is making to neonatal care. I'm so grateful to the thousands of people who take on challenges for our charity each year and make this possible."
Elise Jennings, the director of philanthropy and operations for the Royal Hospital for Women Foundation, said Sophie's contribution is extraordinary. "Much of the specialised equipment in this unit has been made possible through the generosity of Running for Premature Babies. It's a privilege to work with her."
Two-year-old Tobias Andriske couldn't believe his luck when Lachy stopped to stay hello – and ended up giving him a cuddle. Tobias, a NICU graduate, was visiting his baby sister, Aurora, who was born at 23 weeks gestation weighing 500g and is currently and cu in Intensive Care.
"Tobias was just over the moon to see Lachy," says his father Ethan, of Ulladulla. "At first he couldn't believe he was actually real. He's so used to watching him on his iPad. Then after they'd had a cuddle he kept saying 'Lachy is my best friend."
Ethan and his wife Alyscea know the NICU well. "We've had two babies in here so it almost feels like family. We wouldn't have our two children if it wasn't for this place."
The visit was a joy for Lachy as well. "To spend the morning in the NICU at the Royal Hospital for Women was very moving and inspiring," he said. "Everywhere you look in NICU there is a piece of lifesaving equipment that has been provided by Sophie and the Running for Premature Babies Foundation and it makes me incredibly proud to be an ambassador for the organisation."
The Royal's NICU is the largest in NSW, treating thousands of premature and critically ill babies every year. The team provide complex care for at-risk newborns like Aurora, who often need neonatal care for months at a time.
Thanks to donations from Running for Premature Babies, the NICU has remained at the forefront of medical care and has overseen vast improvements in the survival rates and long-term health of premature babies. Twenty years ago, only 40 per cent of babies born in "the grey zone" of 24 to 26 weeks lived. Today, more than 70 per cent survive.