Add your message to our wall of hope
Let the world know who you are challenging yourself for
Add a message to our virtual wall of hope
Send us your message below and let us know who you will be taking on the Premmie Marathon Challenge for. We'll pin your message onto our wall of hope.
For Zoe, our first bub born at 33+6 and we are so very thankful she is happy, healthy and thriving. Thinking of all on this scary journey and those doing it much harder than us xx
September 8th 2020, during COVID lockdowns, I gave birth to a warrior who survived a double lung collapse, heart stoppage, two transfers with NETs, two different NICUs and not having his first kangaroo cuddle until he was 7 days old as we were both in different hospitals due to our own medical needs. My king, my baby, my warrior- I am doing 100km for you!
Cody and Blake

"There is a special little premmie parents team, although it is a scary place to be and the unknown can be overwhelming, you are not alone. Just ba your babies biggest support and advocate."
Cascie

"The hardest days of your life. But with support and strength given by each amazingly gifted staff member, from the volunteers to the countless amazing nurses and trained doctors, you will come through this with a full heart knowing your baby was cared for with love and support through one of their toughest journeys."
Hugh

"Know that there is always hope. Our children show us resilience and strength that we can learn from. Time for us to be strong and support the premmies and their families."
Austin
Austin was born at 24 weeks weighing 635g and spent his first 113 days using life-saving neonatal equipment donated by Running for Premature Babies.
Austin's mum Laura says "Without this equipment we wouldn't have our courageous little man with us today. Forever grateful."
Austin's Aunty Dee says, "Seeing my new nephew all hooked up to machines and so tiny, was one of the most confronting things I have ever seen. Only for him would I run a marathon!!"
Charlotte
Charlotte was born severely growth restricted, weighing 498g and wouldn't have survived without a new Nava ventilator from Running for Premature Babies, that was able to support her tiny underdeveloped lungs.
Charlotte's mum Emily says, "We feel incredibly thankful every day."
Jay

"Parenting is tough but remember you are never alone and that we care about you and your journey."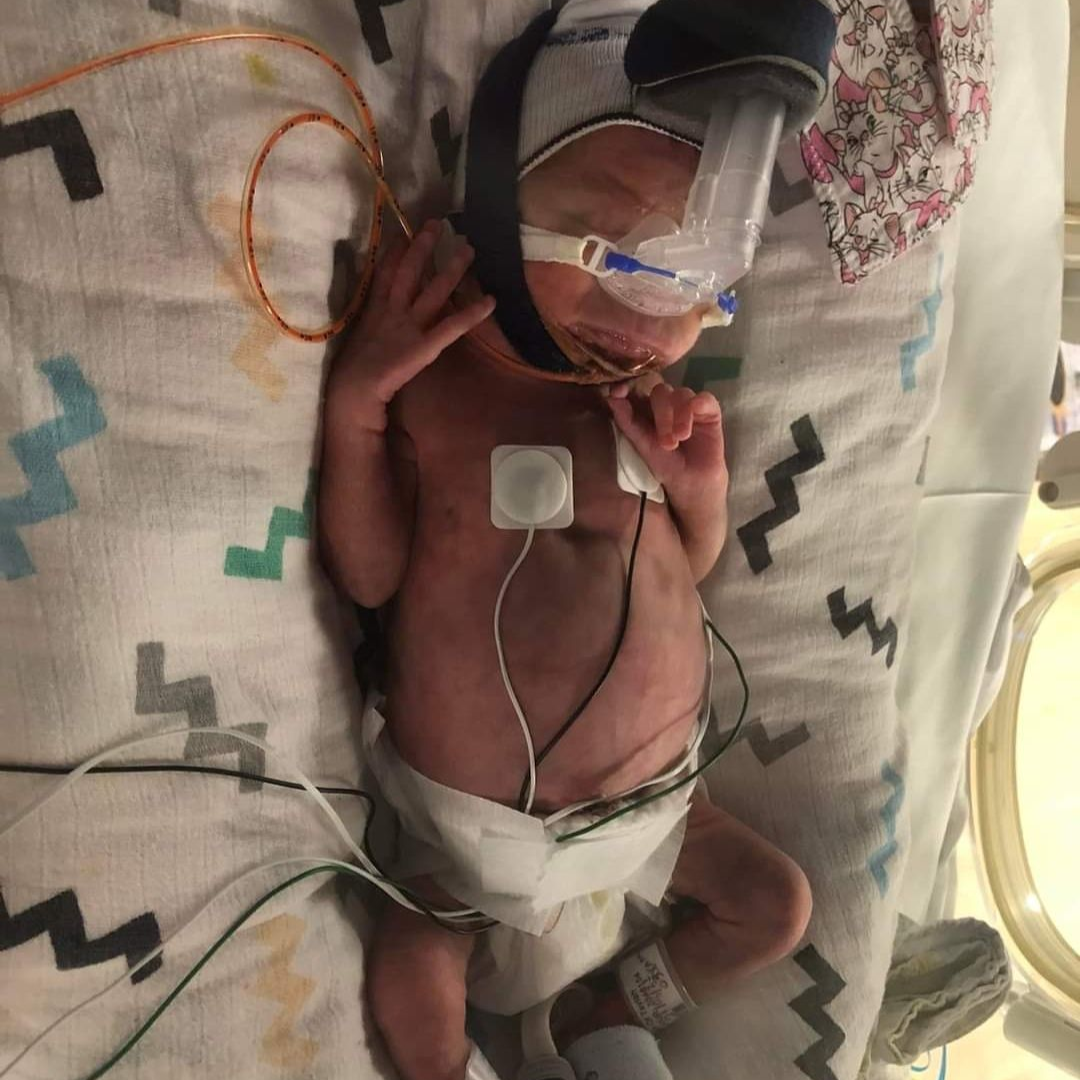 Mali and Joshua

"Our Mali and Joshua were born very small. Little Mali survived through the help of machine and the NICU nurses. We are so grateful."
Willow
Willow Faith was born last year at the Women's Hospital Melbourne at 24 weeks weighing a tiny 658grams. Willow spent 113 days at The Royal Women's Hospital in Melbourne before finally coming home. Her mum Dervla says, "We couldn't be more proud of her."
Rua
Rua was born at 30 weeks, and spent his first 9 weeks using lifesaving equipment donated by Running for Premature Babies at the Royal Hospital for Women.
Rua's dad Mick says, "We will always remember our stay and by fundraising we try to give others the same opportunities we had in the NICU, to grow and grow and grow."
Jack was born at the start of lockdown. He was just 32 weeks and we had a difficult time juggling his hospital stay with his one year old brother and all of the restrictions. Now he's a busy two year old and we are forever grateful to everyone that helped us. I'm doing this for him <3
Amanda

"Strong mothers bring fourth miracles, even in the tinest of packages. Your love and strength shine brighter than any challenge."
Carla
"Every small step is one step closer to your babies coming home. It's a long journey but with great support, you feel that you can get through it."
Madeleine
"One hour at a time. Xx"
Bonnie
"It takes so much courage and emotional strength to get through having your new baby/babies in intensive care. I'm so grateful to the staff who cared for our girls and helped teach me the nuances of being a new mum to premmie twins."
Ryder
Kerri Hughues became a first-time grandmother on 28 September when her precious little grandson Ryder was born at the Flinders Medical Centre in Adelaide at 25 weeks, weighing just 720 grams. "I will walk 100km in this challenge BUT I would walk to the end of the earth for this little man. Be strong Nanny's boy - I love you!"
Premmies are the strongest little souls and they are beyond strong and resilient. Utilise your support system and don't be afraid to ask for help.
Nikki

"Hope is never lost. Miracles are possible when people who care are involved."
Jodie

"Talisha came into this world fighting, born at 1215 grams and very unwell. She was transferred immediately after birth for on going support and spent 2 months in hospital. Talisha has fought and won everyday. She is happy, friendly, clever and has a wicked sense of humour. One of the strongest people l know...my daughter. I walk for Talisha and also my twins."