Each year we do not only run for Henry, Jasper & Evan. On our team we have mums, dads, aunties, uncles, brothers and sisters running in memory of their own babies who have passed away. Many people also make donations in memory of babies close to them who have died.
Wonderfully, we also run to celebrate special children who have overcome their premature start to life, and many donations are made in thanks and celebration for these beautiful kids.
Below are some of the stories of these special children that inspire our team. Scroll down the page to view a video tribute to all the special children we celebrated in 2013.

Xavier Green:
Born 25 October 2010, 26 weeks, 1kg
Read the plight of Xavier who survived 11 weeks in the Royal's Neonatal ICU, spending 6 of those weeks in a humidicrib, 7 weeks on breathing machines and 9 weeks on monitors. Happily Xavier arrived home 2 weeks before his due date. Proud parents, Peter and Anna Green, ran with the team in 2012, 2013 and 2014 and will be back in 2016.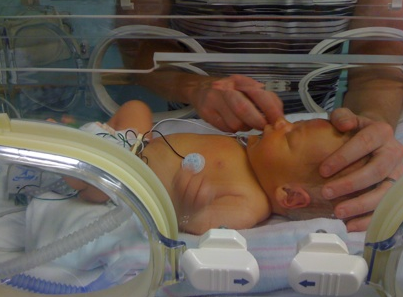 Griff Sullivan: Born 14 January 2011, full term, 3.2kg
It's not only premature babies who call the Royal's NICU home. Amazingly enough one of the team's Hall of Fame runners, James Sullivan, saw firsthand where his fundraising money had been spent when Griff, his firstborn son, used one of the humidicribs bought by the team after struggling with pneumonia at one day old.
Lucy McVie: Born 21 October 2005, 28 weeks, 990g
After reading Sophie's inspiring story in January 2012, Lucy's mum, Danielle, relived her own scary experience when, following severe preeclampsia, Lucy was delivered prematurely – saving both of their lives. After 10 weeks in hospital, Lucy went home. Danielle and Michelle Lidgard, Lucy's Grandmother, now run in the team every year as they know, firsthand, how vital life saving equipment is to a happy outcome like they experienced with Lucy.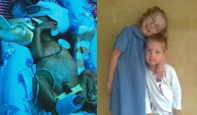 Grace Findlay:
Born 2 March 2001, 24 weeks, 650g
Be moved by the story of 'Amazing Grace" who entered the world at such a frighteningly early gestation that her eyes were yet to open and her skin translucent. After calling the Royal's NICU home for nearly 4 months, Grace went home two days before her due date, weighing 2.1kgs. See how her Mum, Belinda, runs for many reasons including celebrating Grace's life and being forever grateful to the Royal that Grace survived relatively unscathed.

Zahara, Lalibella and Myles Gregory:
Born 12 April 2011, 30 weeks
An incredible story of survival of three triplets whose early entry into the world at just 30 weeks led to a 74-day stay in the Royal's NICU. It's not only their stay at the Royal that began their Mum Phoebe's bond with the RFPB team, but the amazing fact that the equipment bought by the team kept her three triplets alive and the incredibly inspiring way that Sophie has turned her tragic experience into something so very positive.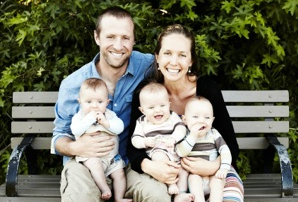 Abigail Ziaziaris:
Born and died 30 October 2012, 22 weeks, 450g
This is a heart-wrenching story of the loss of Carolyn and Angelo's second born and much longed-for baby daughter Abigail, at just 22 weeks and 2 days gestation. Appearing perfectly formed right down to her fingertips, sadly, Abi was too premature to survive. Find out how Angelo and Carolyn run for this amazing cause in the hope that fewer parents will have to face the unspeakable tragedy of going home from hospital without their newborn baby.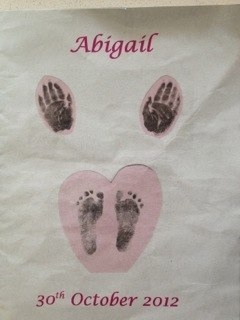 Alexander Pusey: Born 18 October 2008, 26 weeks, 540g, Died 15 November
Read how Alex truly was a 'leader of men' during his short but very inspiring life, courageously fighting every challenge he confronted, and all procedures he endured. The care and support of the NICU doctors and nurses shines through in this very emotional story. So does his Dad, Paul's dedication to keep Alex's memory alive in his heart and to help give other parents a better chance of bringing their precious babies home.

Abby Prentice: Born 14 July 2000, 24 weeks, 470g
Abby Prentice is a true miracle. You need to read her story to believe the number of procedures and surgeries Abby endured, and the breathing difficulties she faced that meant she went home on oxygen and an apnoea monitor. Now a healthy high school student, Abby's mum, Polly, supports the team to celebrate the lives of premature babies who've survived and to remember all of those who died.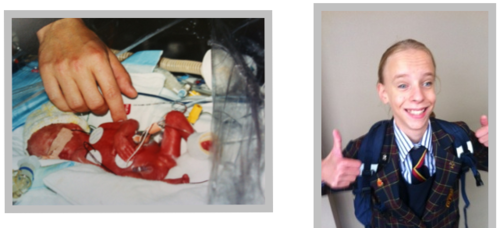 Harrison Drewery: Born 20 May 2011, 31 weeks, 1.8kgs
Harrison's story shows how many mysteries surround premature birth. Spending 8 weeks in hospital was an unexpected journey that his proud parents will never forget. See how, thankfully, Harrison's relatively healthy weight at birth saw him literally sail through his time in hospital, practically re-writing the premature 'handbooks', and how grateful his parents are for the equipment that helped Harrison to survive.

Olivia and Maisie Wardle: Born and died May 1997
Losing twins during childbirth following a complication that only occurs in twin pregnancies was an experience their Mum, Hayley, will never forget. Finding Sophie's RFPB team ten years later, in 2007, was the perfect way to honour her girls' memory so close to their 10th birthdays. Read on to see how Hayley was the first person to join Sophie's first ever half marathon team and how after a short stint working overseas, Hayley re-joined in 2012.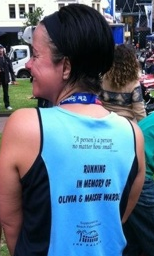 Gabriel Ben: Born in
2006, 29 weeks, 1.06 kg
Learn how Marsha and Michael Ben were thrown into the frightening world of the NICU, after their son Gabriel was born at 29 weeks, due to Marsha's preeclampsia. What followed was an extreme rollercoaster ride of emotions and challenges, worrying and waiting. Thankfully, Gabriel went home after 9 weeks, weighing 2.3kgs. Read on to see why his parents proudly run with the RFPB team.

Elizabeth Thomson: Born 4 January 2013, term, 4.4kgs
Elizabeth's story is a reminder that not all of the babies in the Royal's NICU are so tiny. Some are very big like Elizabeth, but they are also critically ill. Follow Elizabeth's one-month journey though the Royal's NICU, suffering from meconium in her lungs. See how her Mum, Leah, now runs to help raise money to care for babies – both big and small.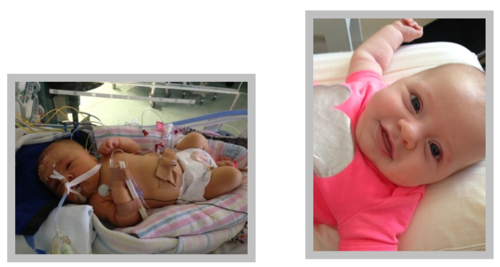 Issaac Bourne: Born 27 October 2012, died November 2012
Isaac was born 16 weeks prematurely on 27 October 2012. He was born suddenly, after a perfectly normal pregnancy. We were lucky enough to be transferred to RHW for his birth, where they were able to look after him in the NICU. Isaac was big for his age, but three weeks into his journey he became unwell with an infection which he was unable to beat, and he sadly passed away.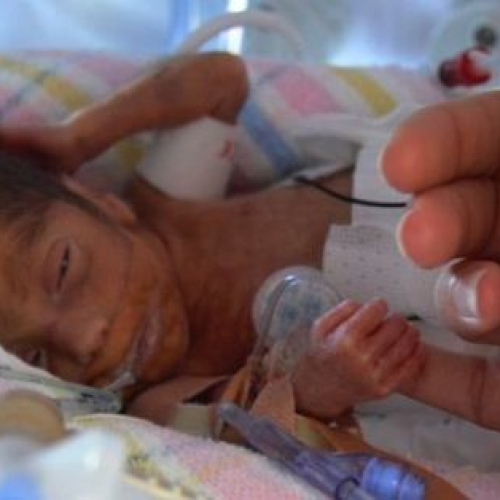 Archie Cordwell: Born 2014, 30 weeks, 1.6kgs
Archie's parents hadn't even started anti-natal classes when he was born and his due date was May 18, 2014 - Race Day!
Read all about Archie's early arrival, journey through the NICU and how the amazing work of the NICU's doctors and nurses inspired Archie's dad to run the 21.1kms on his 'zero birthday.