My Updates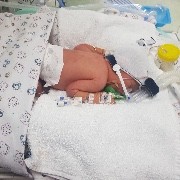 Our Story
Jace Leigh Frohling was born on the 20th August 2019 @ 9:14pm at Hervey Bay hospital via emergency c-section weighing just 2.1kgs. 
My pregnancy was smooth from the get go and I had no complications or worries throughout the whole pregnancy. 
I went into hospital on the 20th just for a check up as I hadn't felt him move for a couple of days but this wasn't unusual as I had an anterior placenta. 
I was placed on a CTG for 1.5hrs and there were no variational movements which lead to getting an ultrasound done to check what was going on. It was then discovered that I had abnormal blood flow from the placenta to the umbilical cord. 
An emergency c-section was ordered and along came Jace perfectly health and screaming. Jace was a happy and healthy little baby for the first 2hrs of his life until he was placed on cpap to assist him with his breathing. He only needed this for 24hrs until he was placed in a incubator. Here we spent 2wks watching him grow and getting stronger day by day. 
Jace experiences jaundice 8 different time. He also required to get a platelets transfusion as his levels got down to 2 every 100 blood cells. 
After a month we were allowed to go home after a very long and challenging road but we made it through with flying colours 
Today Jace is just over 8mths old and a whooping 10kgs, he loves living life to the fullest and spending all his time with his family.